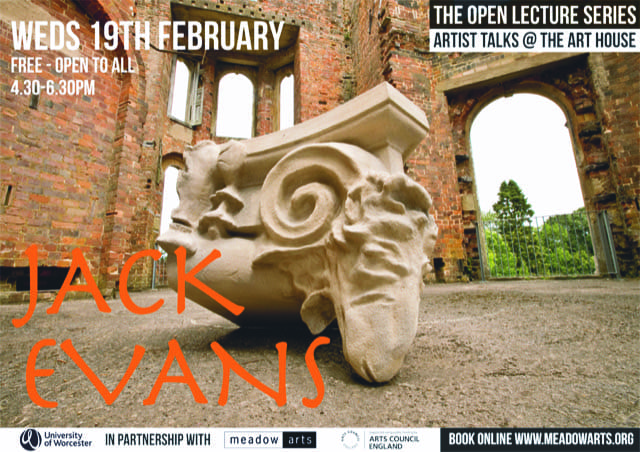 Art House Open Lectures Series
This is the fifth season of contemporary artists' talks in a partnership between the University of Worcester's Fine Art department and Meadow Arts.
Some of the most exciting contemporary artists working in the UK will be visiting Worcester to talk about their artwork, ideas and the processes they use, in a series of free talks taking place at the University's brand new art studios, The Art House in Worcester City Centre.
Talks take place on selected Wednesday evenings from 4:30pm to 6:30pm, and include a chance to ask questions after each presentation. The talks are free and open to all, though booking is recommended for the public.
Jack Evans – 19th Feb
Jack Evans' playful sculptures reference the disconnect between the romanticisation of ruins and the reality of modern architectural evolution. His work featured in Meadow Arts' 2019 exhibition in partnership with English Heritage, In Ruins at Witley Court. Capital was shown within the ruined mansion, where its Corinthian capitals with goat-head motifs (that were originally created for Whiteley's Shopping Centre in London) alluded to a loss of decorative architecture and traditional arts to soulless redevelopment.
He was born in Mansfield and now lives and works in London. He graduated with a BA (Hons) Fine Art, from Central Saint Martins in 2015 and completed an ERASMUS Exchange, École Nationale Supérieure des Beaux-Arts de Paris in 2014. Evans' recent exhibitions include In Ruins (Meadow Arts); Life is too short to be serious all the time, London (Lumen Open Call); Inhabiting The Dome, Whiteley's Building, London; Postage and packaging paid for, Art Licks Weekend 2018; The Floor is Lava Subsidiary Projects, London (Art Night 2018); The grass is greener HERE Inderwick Road, London.
Sally Payen – 11th March
Payen's work focuses on the object-ness of painting in space and exploring an ambiguous relationship between representation and self-symbolic mystery; Key subjects have included protest and democracy in painting, film, and archive; investigating how non-violent protest can alter time-scape when it lands in a painting. In recent years there has been a weird triangle between exploring history painting, feminine knitting and sewing, and repetition. Payen had a solo exhibition at MAC Birmingham exploring aspects of the anti-nuclear protests and women's peace camps that took place at Greenham Common in the 1980s.
Born in Oxford UK, Sally began painting in her teenage years inspired by the music, fashion and protest of the 1980s, which was sometimes close to her suburban doorstep.   Educated in painting at Brighton Polytechnic and attending the painting school of the RCA when it was housed in the V&A; Payen's ideas became shaped by modernism and Indian painting, visiting the collection in the V&A became a big part of her MA studies. Payen completed a practice-based PhD at Brighton University in 2005, she remains influenced in equal parts by the western philosophy of Lyotard and Eastern views.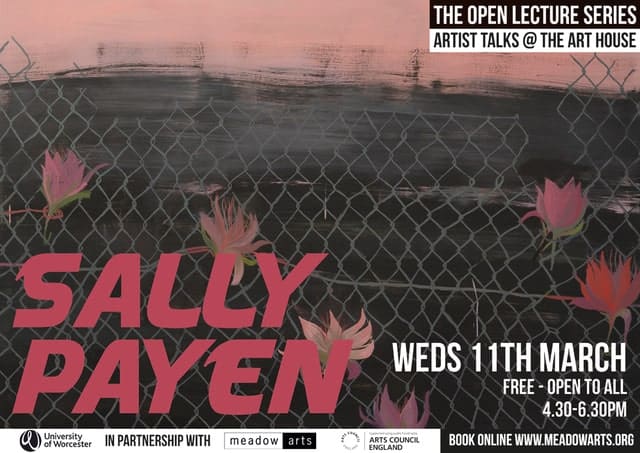 11
Mar 20
This event has passed
Fees & Tickets
Free Event
Event Location
Meadow Arts, Mill on the Green, Linney, Ludlow SY8 1EG
Organiser: Meadow Arts
Location Map