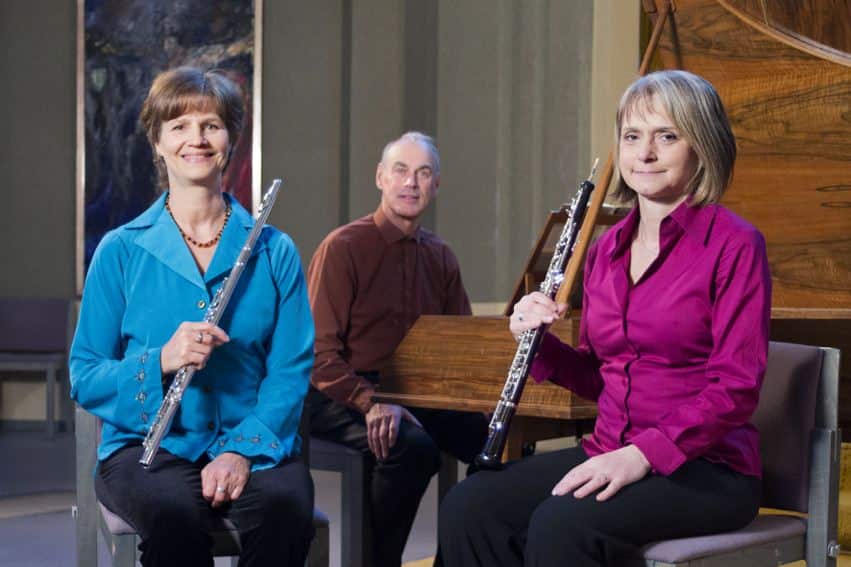 CONCERTS FOR CRASWALL
Concerts for Craswall are delighted to welcome the highly acclaimed ensemble "Harmoniemusik".
Recognised for their original and eclectic programming, the solos, duets and trios for woodwind and harpsichord the ensemble have chosen to play for us promises to be no exception.  Including music by Bach, Britten, Handel, Ibert and Pärt, their programme truly spans the centuries.
HARMONIEMUSIK – TRIOS FOR WOODWIND & HARPSICHORD
TELEMAN                                  TRIO SONATA in A minor for flute, oboe, and harpsichord
LENNOX BERKELEY                SONATINA for flute and harpsichord
PÄRT                                          SPIEGEL IM SPIEGEL for cor anglais and harpsichord
HANDEL                                     TRIO SONATA in F major for 2 recorders and continuo
BRITTEN                                    PAN (from Six Metamorphoses after Ovid Op.49) for solo oboe
IBERT                                          DEUX INTERLUDES for flute, oboe, and harpsichord
DUBOIS                                       PETITE SUITE for flute and bassoon
C.P.E. BACH                               TRIO SONATA in C major Wq 147 for flute, oboe, and harpsichord
SARAH DEVONALD                  oboe, cor anglais & recorde
 ALEC FORSHAW                     harpsichord & bassoon
JANNA HÜNEKE                       flute & recorder
Harmoniemusik's playing was recently described by Sarah Walker of BBC Radio 3 as: "Wonderfully melodic and beautifully crafted … the instruments converse and blend with exceptional grace".
This will be a thoroughly delightful Autumn evening's entertainment.
Booking is highly recommended.
TICKETS   £12 – by post, enclosing a cheque payable to 'Concerts for Craswall' together with a sae to: Concerts for Craswall, Cranbourne, Bush Bank, Herefordshire, HR4 8EJ.
Or by contacting the Box Office on 01432 839341 or email concertsforcraswall@outlook.com
Further information http://www.concertsforcraswall.org
Learn more about the Golden Valley area
14
Oct 17
This event has passed
Event Location
St Mary's Church, Craswall HR2 0PN

Location Map