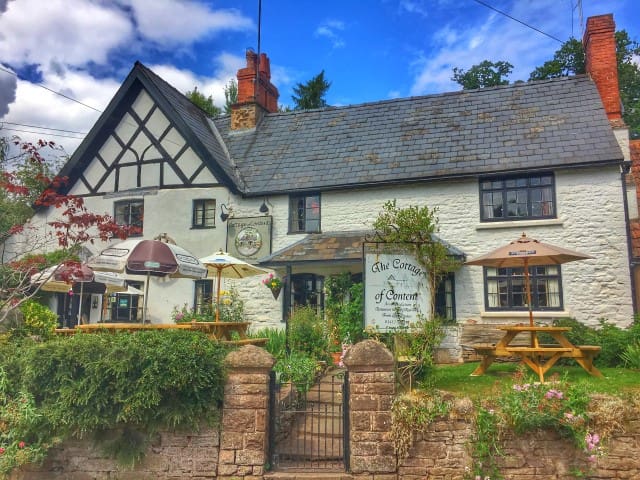 Carey, Herefordshire HR2 6NG
Cottage of Content
Country Restaurant, Pub and Accommodation
Set in the tranquil hamlet of Carey in south east Herefordshire the Cottage of Content is a long established country restaurant, pub and accommodation and certainly lives up to its fairy-tale name, with its picture book beamed building, wrapped with roses.
The Pub
Enjoyed by locals and visitors alike, the popular bar is a regular stop for ramblers, cyclists, dog walkers and anglers has just been awarded the Good Pub Guide's prestigious Best Country Pub of the Year 2017.
Looking over the quiet road that is more frequented by cyclists than cars, the pretty beer garden is often abuzz with visitors from near and far, all attracted by this quintessential English pub with an enviable reputation from its hospitable owners.
The Restaurant
Quite the foodie destination, The Cottage of Content's contemporary cuisine is the work of owner and chef Richard. Fine ingredients sourced from around the area and seasonal dishes ensure there are always regular favourites and a range of specials.
Open for lunch and dinner, booking is certainly advisable all year round, especially for their Sunday Lunch.
Rooms
With a range of 3 double en-suites and 2 twins, The Cottage of Content provides peaceful cottage style accommodation for a countryside break, with lovely rural views from every room.
You can be sure that breakfast will stand you in good stead for the day from Richard's kitchen and this is a favourite destination for anglers, walkers and those on a tour of this area of outstanding natural beauty.
We think you'll certainly be content in this cottage.
Area Map