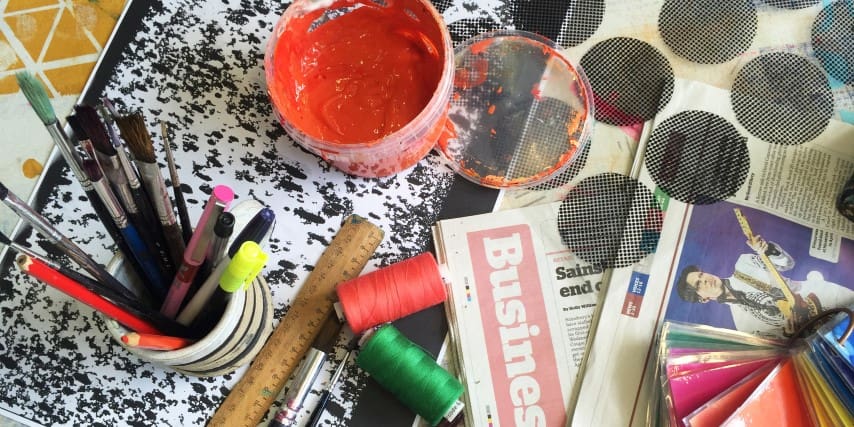 Hereford College of Arts, Folly Lane, Hereford HR1 1LT
Hereford College of Arts
Creative Courses
Inspiring staff will encourage you to explore and be creative
Hereford College of Arts is a specialist arts college.  Based in the compact historic city of Hereford, in the midst of exceptional landscape, this dynamic creative community offers undergraduate and postgraduate degrees, college-level courses and a rich, varied short course programme.
Whether you join as a practising artist, a keen amateur or a complete beginner, you'll benefit from expert tuition.  Inspiring staff will encourage you to explore and be creative, developing your skills and building on your own individual talents.
HCA provides day workshops, short courses, and evening talks to inspire your creativity. Our short course program covers everything from design crafts to floristry and gardens, business workshops to computer graphics, and fine art to video and photography.
Students enjoy exceptional technical facilities with well-equipped studios for photography, drawing and painting, music, plus a performing arts theatre and specialist workshops in textiles, ceramics, 3D Fabrication, print and small metals.  So whether you feel most inspired with a paint brush, camera, yarn, or pliers in-hand, you'll be all set to create.  Or the digital media suites offer limitless high-tech possibilities for graphic design, illustration, animation and film-making.
At Hereford College of Arts, they believe exceptional work comes from engaging with others and the world around us.  So their short courses are always a social and fun shared experience.
You are invited to join in, for a true arts school experience. Your creative adventure starts here!
Virtual Tour of Hereford College of Arts Hereford College of Arts, College Road, Hereford.
Ever wanted to see inside the wonderful Hereford College of Arts? Well now you can. Take a virtual tour of the campus, facilities, studios and workshops. It's great for those who are looking to study there soon or perhaps just reminiscing about the good old days.  Click the image below.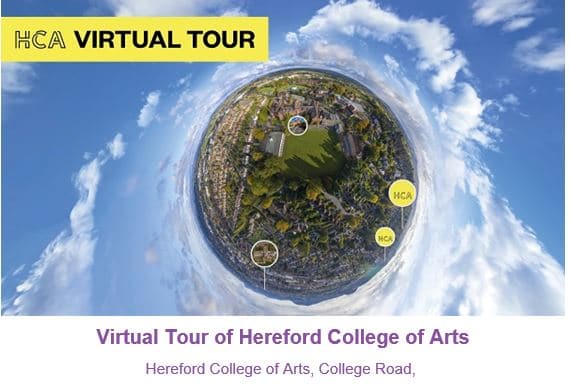 Area Map